A few months ago, I bought David (5) a math curriculum because he expressed an interest in math workbooks.  He enjoyed this new book for the first 40 pages or so and then, as we got further in the book, he stopped asking to do it.
Today I coaxed him a little since it had been 2 weeks and asked him why he wasn't as into it anymore.  I realized that, while he totally gets (and enjoys) the content, he was getting bogged down by the fact that he had to write all those answers.  His fine motor skills aren't anywhere near his math skills.
I decided to try one page orally (with him telling me the answers and me filling them in) and he BREEZED through several pages.  Since he's obviously ready for the content of the curriculum and ENJOYS it, we're going to continue with it in this manner.
This is the beauty of homeschooling.  Here we have a child who is bright and wants all the info I can give him but isn't ready to sit and do paper/pencil type work for long periods of time.  He's a perfectionist and keeps erasing the number if it isn't exactly as it should be.  In school, he'd probably get turned off to math and writing at an early age because there's so much of a focus on handwriting and more written tasks than ever before in the primary grades. 
As for the writing, I am not worried about it at this point.  He's only 5!  He'll still work on Handwriting without Tears (he loves that) but the rest will come with time.  (And Mommy has the worst handwriting and was always criticized for it in school regardless of excellent grades–ugh.)
I love that homeschooling gives me the freedom to accomodate my son in this manner.  In school, you have to go through testing and fill out mounds of paperwork if your child doesn't fit inside the "box" in order to get modifications (such as answering orally on a math sheet). 
Tonight he also wrote another page in his story about Cassie from Dragon Tales in his special "Words and Pictures" book.  It's one of those books filled with pages with lines for text under a space for illustrations. He enjoys adding onto his story and using inventive spelling.  (I write with the convention spelling underneath.)
I am a big believer in the work of John Holt and aim to keep learning as integrated and as "real" as possible, but I do like to make sure we're covering (for lack of a better word) all the subject areas even if everything we do is child-led.  I find that David is like a sponge, so it's just a matter of exposing him to new concepts, places, and people!  I'm see myself as a facilitator who is learning alongside my children.
For science, we've just raised tadpoles and are about to visit with a local beekeeper.  We'll learn about honeybees and will also make hand-rolled beeswax candles.  (Before this, David was into sea turtles so we visited a sea turtle rehabilitation center on the coast and attended a sea turtle co-op with a local homeschool group.)
For social studies (and language arts), David is writing back and forth to his new pen pal, Matthew, who lives in CANADA!!  (They're writing via email as well as snail mail.) He expressed some interest in Canada, so we went to the library and got a bunch of books yesterday on the topic.  I'm thinking about leading a co-op on Canada since I'm learning so much along with him. 
Reading is, of course, integrated like everything else.  He is about to take off and is reading the basics and enjoys the reading section on www.Time4Learning.com. As a visual spatial learner, he is more focused on whole words and the "bigger picture" than phonics, but I find that he still is learning a lot of phonics through the online games and through conversation.  All he can talk about is READING!!  Wherever we are, he wants to read the signs, the menu, the brochure, etc..  When I ask him a question, he answers with "Y" instead of "yes" and then goes on to explain that he said "y" because that's what "yes" starts with.  Seriously..LOL
  He is reading short, phonetic words independently and enjoys predictable books as well as books written for older children.  While he would be considered a beginning reader, he's exposed to books for children of all ages on a daily basis.
We read aloud a lot, we have audiobooks for the car, and he gets his own magazines in the mail.  My goal has always been to provide a print-rich environment and to let him learn naturally.  He's never been to preschool (here most are pretty structured) so that natural love for learning is alive and well. 
Some of you know that David was attending music classes at a local public school. Unfortunately, they had to change the schedule for those classes, and the new time didn't work with our schedule. I had to pull him from the program but he's okay with it.  He wanted to do the activities with the homeschool group when given the choice between the two..  I'm working now to find out if any other principals in the area would be willing to accomodate us.  He's also starting a new dance class at the YMCA on Saturdays and may take violin from the violin teacher who taught his violin class at school since she does private lessons at her home. 
He's still doing Tae Kwon Do in addition to participating in lots of classes/co-ops with our homeschool groups and clubs.  We are busy, but in a fun, natural way that works for our family and includes lots of downtime.  Loralei (2) is also thriving and truly benefits from all of these all we do. While she doesn't pick up the details, she definitely is learning basic concepts regarding the topics we explore.  She also just started taking a class at a local dance studio and seems to enjoy the opportunity to do something on her own.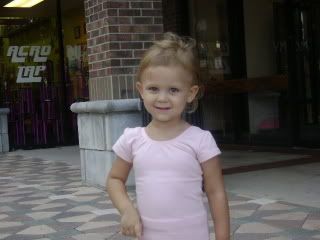 October is especially busy for us because many of the homeschool groups have Fall Festivals and Halloween celebrations.  We're visiting a pumpkin patch next week and recently made a scarecrow craft that we got from Oriential Trading. 
This is my first year keeping a portfolio for the state.  I'm actually enjoying the record-keeping process.  I bought a basic planbook from the local store for teachers (and homeschoolers) and am using it to record our activities each day.  The categories are as follows: books & magazines read, use of media, games & curriculum (if any), classes & co-ops, noteworthy experiences, and parent's observations.   
That's all for now..
Site of the Month: Life Without School